Posted on Thursday, November 7th, 2013 at 1:16 pm.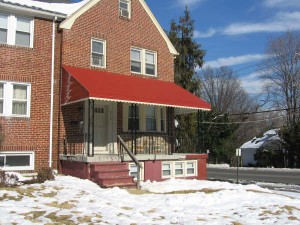 The holidays are coming! It's time to plan out your holiday decorations. How will you stay on a budget? How will you awe your family and friends? Don't think too hard about it. You can get all decked out for the holidays by having awnings installed and using the custom awnings to display your holiday décor.
With residential or commercial awnings, you can properly and safely display your holiday lighting and decorations. Having holiday decorations up on your family business could help yield in more sales and attract more foot traffic to your business throughout the holiday season.
Awnings are beneficial to homeowners because it adds an extra holiday cheer to the neighborhood and makes the home more welcoming during the special season.
When does the holiday season officially start? The answer is November, right before Thanksgiving. There's nothing quite like a brilliant holiday lighting display. It's magical.
The best holiday displays use multicolored lights to illuminate an otherwise bland landscape.
You do not need to go over budget with lavish holiday decorations. Keep it simple and hang moderately priced decoration from your awnings. You can even have a custom holiday awning created specifically for you to use during the holiday season. For example, an S for Santa can be stitched to your custom awning. You can hang lightweight holiday decorations from your awning beams.
You will be amazed how much awnings can enhance your curb appeal when holiday lights are stringed together to illuminate your patio, porch, doors, or windows.
Here is a list of colors that look absolutely amazing on awnings for the holidays:
-Pink and green for a spring feel
-Blue for a frosty touch
-Orange, black and purple for your Thanksgiving celebrations
-And white serves as the neutral color that you can use all year round.
Novelty lights, garden lanterns and formal lights are all safe to use on awnings. Take a look at our residential awnings and commercial awnings to see what we can do for you.
Carroll Awning Company has unmatched qualities on awnings and stylish awning frames for both residential and business purposes.
We offer any type of patio awnings you may need, from freestanding canopies to compact domes. Choose fabrics in stripes, solids or patterns. All are suited for UV resistance.
Through our combined locations and experience, Carroll Awning Company provides innovative craftsmanship, superb service, competitive pricing and unfailing attention to details in order to deliver a product that exceeds expectations.
Call for a FREE on-site estimate at 1-800-999-5617 or click here today!
Check us out on Facebook and Twitter as well!
Source:
http://www.articlesbase.com/business-articles/deck-the-halls-walls-and-awnings-in-brilliant-holiday-light-6306181.html
http://homeguides.sfgate.com/awning-string-light-ideas-76054.html