Posted on Sunday, October 28th, 2012 at 1:46 am.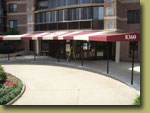 Frequent rain and snow weather season is approaching. You will want your business to remain functional and appeal through all the seasons of the year. One way to do this is to install outdoor walkway canopies.
Outdoor canopies instantly help your business make a positive impression.
Canopies enhance the aesthetic and architectural look of your building but also tell visitors to your business about your style. You can give your business the impression of being cutting edge, sophisticated, family oriented, or carefree. It's your choice how you want to express your business' personality.
Canopies go well on just about any building structure, including hotels, office buildings, shopping malls, schools, movie theaters and hospitals.
The canopies will provide both sun and shade while giving employees and clients alike shelter as they take those long walks to the street, parking lot or courtyard.
Carroll Awning Company is here to help your business appear aesthetically pleasing and always be practical. You will never have to worry about customers or clients being unprotected from the elements. You will be able to properly expand your business' outdoor space, which automatically adds efficient space to your revenue areas. If you have more space, you have more potential to increase business profit.
For more information on commercial awnings and free quotation call Carroll Awning at 1-800-999-5617 or click here today!