Posted on Monday, April 7th, 2014 at 12:13 pm.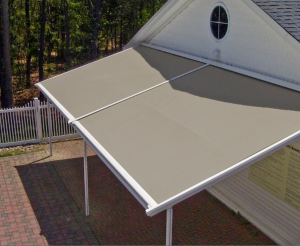 The warm weather is breaking through and it's time to get your outdoor area in order for parties and family gatherings. It is especially important that your outdoor space keeps your family and friends cool on the warmest days. You can provide them plenty of shade by utilizing retractable awnings.
Having professionally installed residential awnings, you can keep your patio 20 degrees cooler than it would otherwise be. Not to mention, the retractable awnings could shield your family and guests from sudden rain fall or other inclement weather.
Not to mention, retractable awnings are designed to protect your family,patio furniture, and porch from harmful UV rays. In other words, you'll have peace of mind that you and your family are cool and protected from harmful UV rays anytime you're out on the deck.
No more worrying about unwanted sunburns. You can relax and enjoy your outdoor space all day, even all year long. Save on your home energy bill by having window awnings installed.  Use retractable awnings to say on your cooling bill. Have your retractable awnings custom made by Carroll Awning Company today to create your dream patio design. We can offer you custom awnings no matter the size of your patio.
Carroll Awning Company has unmatched qualities on awnings and stylish awning frames for both residential and business purposes. Let Carroll Awning Company  help you decorate your property with awnings and reduce your energy costs today. Retractable awnings will reduce heat loss during the cold months of winter and protect your property from heat gain during the hot days of summer.
We offer any type of patio awnings you may need, from freestanding canopies to compact domes. Choose fabrics in stripes, solids or patterns. All are suited for UV resistance.
Through our combined locations and experience, Carroll Awning Company provides innovative craftsmanship, superb service, competitive pricing and unfailing attention to details in order to deliver a product that exceeds expectations.
Call for a FREE on-site estimate at 1-800-999-5617 or click here today!
Check s out on Facebook and Twitter as well!
Source:
http://voices.yahoo.com/benefits-retractable-awnings-8343807.html?cat=7
http://www.costco.com/SunSetter-Motorized-Retractable-Awnings-.product.100017021.html