Posted on Tuesday, April 8th, 2014 at 4:43 pm.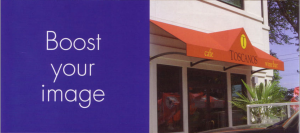 Are you searching for ways to attract more consumers to your commercial storefront? You can attract them by the flock when you enhance your curb appeal. How can you affordably enhance your curb appeal? You can take advantage of custom storefront awnings to help your storefront make you money.
Key storefront awnings  you should utilize are commercial window awnings. The design of commercial window awnings  can not only make your storefront more attractive but the window awnings can also help your business save money, while making money.
How can commercial awnings save business owners money while making money?
The answer is simple. Commercial Awnings pay for themselves over time. Here is a list of ways storefront awnings pay for themselves:
You don't have to spend money on signage for your company because custom awnings can feature  your company name, logo and tag lines / or mottos. You will not only reap the benefits of a polished designed, but also consumers will be more inspired to stop in your business because the awnings can serve as eye-catching billboards.
Window awnings and other storefront awnings can increase your business visibility because custom designed awnings can offer businesses quality lightening that can improvise visibility from great distances at night. That means you can have your storefront open for longer.
Awnings truly enhance curb appeal. What does that mean for your business? It means that more customer traffic will flow to your storefront and increase sales opportunity.
Storefront awnings can reduce building repair costs by shielding your building exteriors, while sheltering your customers and employees from inclement weather.
Commercial awnings reduce utility costs by lowering your energy expenses for heating and cooling your commercial property.
Bottomline: Storefront awnings will add value to your business and help you generate more business revenue.
Carroll Awning Company is here to help you drive loyal customers to your storefront today. We understand how important it is for commercial companies to maintain  a beautiful storefront. This is the reason we offer custom awnings for businesses of all sizes. We want you to help you run a successful business by keeping your storefront looking great. Let's start today.
Carroll Awning Company has unmatched qualities on awnings and stylish awning frames for both residential and business purposes. Let Carroll Awning Company  help you decorate your property with awnings and reduce your energy costs today. Retractable awnings will reduce heat loss during the cold months of winter and protect your property from heat gain during the hot days of summer.
We offer any type of  awnings you may need, from freestanding canopies to compact domes. Choose fabrics in stripes, solids or patterns. All are suited for UV resistance.
Through our combined locations and experience, Carroll Awning Company provides innovative craftsmanship, superb service, competitive pricing and unfailing attention to details in order to deliver a product that exceeds expectations.
Call for a FREE on-site estimate at 1-800-999-5617 or click here today!
Check s out on Facebook and Twitter as well!
Source:
http://www.grandrapidsawnings.com/awnings-grand-rapids-commercial-awnings.html
http://www.marygrove.com/commercial/storefronts.aspx