Posted on Wednesday, November 13th, 2013 at 7:12 pm.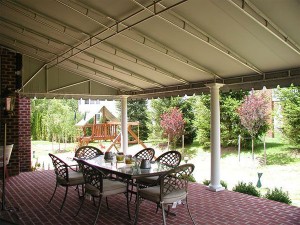 Are you excited to host a big Thanksgiving feast for your extended family? You can really impress your Thanksgiving guests by enhancing your curb appeal just in time for the holidays. To do this in a cost effective way, you should have a professional awning company install residential awnings for your home. Residential awnings can be installed for the patio, windows and doors of your home. You may also want to consider retractable awnings.
The awnings will provide shade for your home property and add extra comfort to your outdoors for guests that prefer to enjoy a little fresh air during the big holiday feast. You will also protect your home better by creating physical barriers against UV rays and the weather elements of strong winds and heavy rain/ snow falls.
With well-designed awnings, you can keep the cold draft out of your home for Thanksgiving and the entire winter.
Carroll Awning Company is here to custom design awnings for your residential property that truly enhance your curb appeal. You can count on our custom awning products to provide great flexibility and versatility for your home. From retractable awnings to traditional awnings, you will have limitless opportunities to entertain your family and friends this Thanksgiving.
Here are some instant benefits you will reap from having residential awnings from Carroll Awning Company:
-Your furniture life will extend
-Your energy bills will be less expensive
Have a look at our awning home solutions to get an idea about the custom awnings we can create and install for your residential property.
Here are ways you can use custom awning to enhance your curb appeal:
-Make your home entry pop with color. We can install residential awnings that feature bright and bold awning fabrics. Bright colors can bring out cheerfulness in not only your party guests but also your entire neighborhood.
-Awnings can help you keep your home property cleaner by shielding your decks and patios from the weather elements.
-The awnings will add personality to your home property and help you give your home a more polished look by setting out winter plants along side your home entry way. The awnings will shield your plants.
Carroll Awning Company has unmatched qualities on awnings and stylish awning frames for both residential and business purposes.
We offer any type of patio awnings you may need, from freestanding canopies to compact domes. Choose fabrics in stripes, solids or patterns. All are suited for UV resistance.
Through our combined locations and experience, Carroll Awning Company provides innovative craftsmanship, superb service, competitive pricing and unfailing attention to details in order to deliver a product that exceeds expectations.
Call for a FREE on-site estimate at 1-800-999-5617 or click here today!
Check s out on Facebook and Twitter as well!
Source:
http://www.canvascraftinc.com/blog/protect-your-home-with-professionally-installed-awnings/
http://www.earlytimeshomesolutions.com/wheeling-residential-awnings.html
http://www.bhg.com/home-improvement/exteriors/curb-appeal/enhance-front-entry/