Posted on Monday, October 28th, 2013 at 7:02 pm.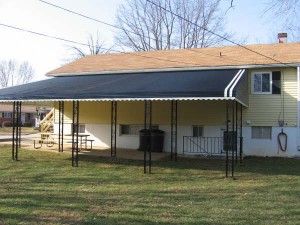 Do you have a patio? Do you wish you could use it all year round? You can by having patio awnings installed for your place of business or home. Patio awnings offer a wide variety of benefits to homeowners and business owners alike.
One great benefit you can gain from having patio awnings is maintaining your patio furniture quality. Without an adequate shelter for your patio furniture, your furniture could experience water damage from being exposed to the weather elements. If you are purchasing patio furniture, it's best to go with vinyl furniture sets or metal patio furniture that has a powder coating.
For your awning patio design, go for an awning that complements your home or business color themes. You will not only enhance the curb appeal of your residential or commercial property, but you will also shield yourself and your furniture from sun damage and precipitation.
You can have peace of mind that your patio furniture will not deteriorate or discolor from lack of shelter by counting on Carroll Awning for patio awnings that last a lifetime and include warranties.
Patio awnings will keep you cool when you needed, prevent skin cancer, and lower the cost of your energy bill.
Take a look at our weather resistant patio awnings/ aluminum awnings to protect you from harmful UV rays, heavy rain, and wind/temperature extremes.
Carroll Awning Company has unmatched qualities on awnings and stylish awning frames for both residential and business purposes.
We offer any type of patio awnings you may need, from freestanding canopies to compact domes. Choose fabrics in stripes, solids or patterns. All are suited for UV resistance.
Through our combined locations and experience, Carroll Awning Company provides innovative craftsmanship, superb service, competitive pricing and unfailing attention to details in order to deliver a product that exceeds expectations.
Call for a FREE on-site estimate at 1-800-999-5617 or click here today!
Check us out on Facebook and Twitter as well!
Source:
http://www.bgardener.com/patio-covers-furniture.html
http://www.katiecowden.com/the-benefits-of-patio-awnings/
http://www.alumawood.net/faqs/alumawood-faqs/what-are-the-benefits-of-alumawood-aluminum-patio-covers/