Posted on Friday, June 1st, 2012 at 2:27 pm.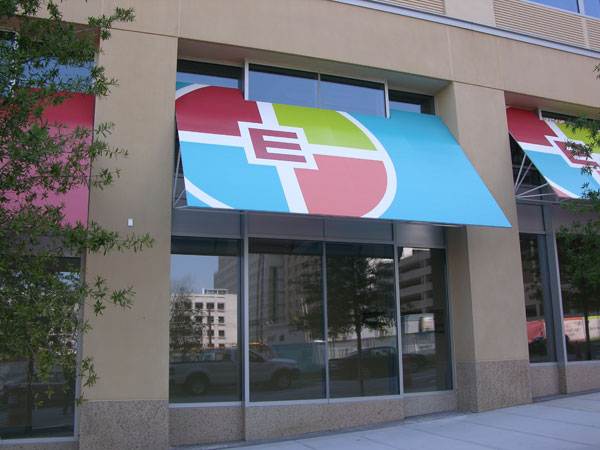 Do you know about the benefits fabric awnings and canopies can offer your commercial space? If you do not know, Carroll Awning is here to get you in the know. Read to learn how awnings can transform your commercial building into a green building.
Awnings can contribute to your LEED energy and atmosphere credits by lowering your cooling costs (if awnings are positioned correctly). They can also improve your commercial functionality by increasing your energy savings & improving your cosmetics with branding & imaging.
Here are ways you can use awnings & canopies for commercial usage:
–      For restaurants and eateries you can expand seating.
–      For retail stores and malls you can enhance comfort while expanding your branding opportunities.
–      Hotels and resorts you can increase comfort, branding and expand your image solutions.
–      For office buildings and schools you can improve energy savings, landscaping, and wide public spaces.
The following are just a few fabric awning styles you can use to correlate with your business décor:
The Canopy.  This fixture is supported by a stanchion and attached to your building. It is made of fabric to provide similar benefits and aesthetics as an awning.
The Retractable awning. This type of awning can be used for patios and decks. It extends and retracts to provide excellent shelter while allowing the desire sunlight you want for your business.
The Concave Awning. This awning can be used over a window or door. This awning has an inward curvature of the front panel. Its side panels can be covered with fabric for a shaded enclosure or left open.
The Elongated Dome. This awning is perfect for long windows or entryways. It can be used on a flat surface or it can curve to cover a corner entry or windows.
To learn about more fabric awning styles you can use for your commercial business come to Carroll Awning Company.
Through our combined locations and experience, Carroll Awning Company provides innovative craftsmanship, superb service, competitive pricing and unfailing attention to details in order to deliver a product that exceeds expectations.
A satisfied customer is always our first priority. We work with each of our customers to design an awning or canopy product that meets all the requirements of the situation. Thousands of projects and satisfied, repeat customers have taught us price is a primary concern but not the only concern. Therefore, quality and longevity of your awning are important factors in determining the true cost of the product. Material costs vary greatly and reflect the life expectancy and warrant they carry.
We can help you determine which products will provide the truly cost effective awning. For more information, fabric swatches and free quotation call Carroll Awning at 1-800-999-5617 or click here today!
Awnings can be used to advertise a business, beautify a building or home, offer shelter from the weather or control energy costs — or all of these things at once. We custom make many different kinds of awnings for many different clients, both commercial and residential. Let Carroll Awning serve you.