Posted on Wednesday, August 28th, 2019 at 2:00 pm.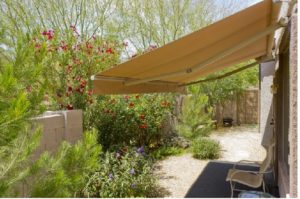 Most people purchase a retractable awning because of the shade that it can offer. These awnings come in many different styles and provide varying amounts of protection. But you may be asking yourself, "Why should I buy a retractable awning?" Find out how a retractable awning can be an excellent investment for your home.
A Retractable Awning Pays For Itself
If you invest in a retractable awning, it will end up paying for itself over time. A retractable awning will protect features of your home such as windows and doors. Whenever you protect these features, you don't have to repair damages as often. This saves you money in the long run. On top of that, the shading these awnings offer provides you with protection from the intense heat and cold. As a result, you save money on heating and cooling for your home.
A Retractable Awning Can Be Retracted During Severe Weather
With stand-alone non-retractable awnings, you have to hope brutal weather doesn't destroy your awning. Whenever severe weather strikes, expensive repairs are soon to follow. As an alternative, you can invest in a retractable awning. Choosing a retractable awning means you have a feature that can be drawn back when dangerous weather is approaching. This helps to prevent damage to your awning, which can save you money.
Keep in mind that each awning has its tolerance level for varying types of inclement weather. So you need to know when to retract your awning and when it's acceptable to leave it out.
They Can Protect Upholstery And Flooring
Many people have had to deal with the misfortune of having furniture become "bleached" by the sun. The process of "sun bleaching" is when the sun dries things out and takes the richness of color out of objects over time through the process of solar radiation. This can frustrate property owners due to how it can ruin furniture, walls, and flooring. A retractable awning would be the perfect solution to protect your home from an overdose of sun radiation, preventing them from the "bleaching" the sun would otherwise give them.
Whenever the sun is more severe, the awning can expand, and it retracts whenever there is less sunlight. You can even give your awning a sun-resistant fabric for additional protection. It's also possible to equip your awning with a timer, which would let them expand and retract at pre-determined times.
Contact Carroll Architectural Shade Today
Through our combined locations in Baltimore, Maryland and Washington, D.C., Carroll Architectural Shade provides innovative craftsmanship, superb service, competitive pricing, and unfailing attention to detail for customers throughout Maryland and Virginia.
Our highly skilled craftsmen design and custom manufacture shade products in house, including commercial awnings, residential awnings, retractable awnings, roll up curtains, aluminum awnings, and flat metal canopies. Founded in 1958 by James Carroll Sr., and still family-owned by his sons today, Carroll Architectural Shade remains committed to delivering top quality craftsmanship and service.
Visit our website to see how we can serve you, and follow us on Facebook, Twitter, Linkedin, Pinterest.