Posted on Wednesday, September 4th, 2019 at 2:58 pm.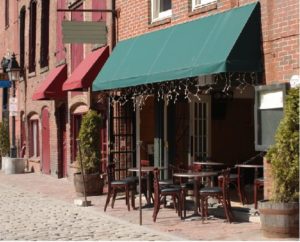 No one wants to spend money on a commercial awning repair if they can avoid the problem from the start. That's why businesses need to take measures during their design and construction phases when having an awning installed. You can prevent yourself from needing a commercial awning repair by following certain procedures.
Keep Your Surroundings In Mind
One of the most significant factors in determining the lifespan of an awning is where it is placed. To avoid needing a commercial awning repair down the road, you need to consider all of the different weather conditions your awning will have to endure. You also want to keep in mind how close your awning is to other structures.
Conduct Zoning And Coding Research
Zoning and coding regulations can limit what awnings you can have. Some regulations are more obvious, but other ones go under the radar and can surprise architects and residents. Such restrictions may be business districts, landlord and neighborhood restrictions, and other kinds of localized regulations that may be in place. These regulations can prevent you from having your preferred awning design, but you're better off avoiding these problems instead of being forced to repair or remodel your awning after you've completed its construction.
Understand What Maintenance Your Awning Needs
To prevent needing a commercial awning repair, you need to know how much maintenance your awning demands. Precision of language that is used during the design and construction phases of the awning is essential to note. Awnings that are "low-maintenance" should not be mixed up with awnings that require no maintenance. A commercial awning repair is more likely to be needed if you don't take care of your awning. Keeping this in mind, make sure you're always on top of all recommended maintenance procedures.
Hire An Experienced Professional
A commercial awning repair won't be needed if you hire the right person to install it from the beginning. If you hire an experienced awning contractor, they'll know exactly how to install your awning. A professional will also be able to help you research all of the different zoning and coding restrictions in your area. When you have a highly-trained professional around to help you, they can let you know all of your options before you install your awning. This can help you make a decision that is best for you, your building, and your wallet.
Contact Carroll Architectural Shade Today
Through our combined locations in Baltimore, Maryland and Washington, D.C., Carroll Architectural Shade provides innovative craftsmanship, superb service, competitive pricing, and unfailing attention to detail for customers throughout Maryland and Virginia.
Our highly skilled craftsmen design and custom manufacture shade products in house, including commercial awnings, residential awnings, retractable awnings, roll up curtains, aluminum awnings, and flat metal canopies. Founded in 1958 by James Carroll Sr., and still family-owned by his sons today, Carroll Architectural Shade remains committed to delivering top quality craftsmanship and service.
Visit our website to see how we can serve you, and follow us on Facebook, Twitter, Linkedin, Pinterest.