Posted on Thursday, September 12th, 2019 at 7:48 am.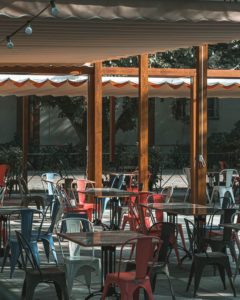 Part of what makes building designs successful is that people like how those buildings look, which makes them want to visit the building time after time. Adding a commercial canopy to your business could be the difference that makes your business stand out among others, not only in appearance but also in how your building functions. These are just some of the reasons why a commercial canopy would be a wise investment for you and your business.
Appearance
People understand the importance of curb appeal. No one wants to visit or work in a building that looks bland, boring, and uninviting. By adding a commercial canopy to your building, you add a unique aesthetic appeal that other features don't offer.
Make It Easier To Find The Entrance
Finding where to enter a building isn't always as easy as it seems, especially for people visiting your building for the first time. On top of that, there will be other distractions that make it harder to find where you are, particularly in heavily crowded areas. With a commercial canopy, you now have a large feature that helps point out to people where they should enter your building. Not to mention canopies provide a wonderfully welcoming environment right at the front door, making people feel more comfortable going inside.
Protection
A commercial canopy is perfect for sheltering your patrons and visitors from any inclement weather, such as intense sunlight or heavy rain or snow. When your entrance is more nurturing and inviting, people are more likely to stay. You want to be proud of your business's environment, and having a commercial canopy is means you have a feature you can show off with pride.
You Can Do Some Company Branding
Nothing like a little extra advertising to help bring in customers. What's great about a commercial canopy is that you can fit the name of your business on it, or slap the design your business's logo on instead. This helps get the name of your business out to the public. When more people know your company's name, they're more likely to spread the word of your company to others. This will help drum you up some new business.
Contact Carroll Architectural Shade Today
Through our combined locations in Baltimore, Maryland and Washington, D.C., Carroll Architectural Shade provides innovative craftsmanship, superb service, competitive pricing, and unfailing attention to detail for customers throughout Maryland and Virginia.
Our highly skilled craftsmen design and custom manufacture shade products in house, including commercial awnings, residential awnings, retractable awnings, roll up curtains, aluminum awnings, and flat metal canopies. Founded in 1958 by James Carroll Sr., and still family-owned by his sons today, Carroll Architectural Shade remains committed to delivering top quality craftsmanship and service.
Visit our website to see how we can serve you, and follow us on Facebook, Twitter, Linkedin, Pinterest.