Posted on Friday, February 22nd, 2019 at 1:44 pm.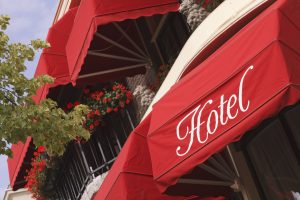 An awning is a fantastic structure to add to your home or commercial property. Awnings provide a variety of benefits to you and your property, such as added protection from the elements and can even extend your living space. Since your awning does so much for you, you will want to make sure you are taking good care of your fabric awning. While it is looking out for you during harsh weather, it is taking a good beating and will require some care to help make sure it can continue to stand and function. Follow these tips on how to care for a fabric awning to make sure it can last for a long period of time.
Keep It Clean
Your fabric awning is a part of your property, and like any other part of your property, you will want to make sure you are keeping it clean. Making sure a fabric awning is clean is an important part of good awning care. Regularly cleaning the fabric awning on your property will help make sure it does not accumulate any stains or mildew. A hose and broom can also be used to give your awning a good cleaning and rid it of dust and dirt.
Take Them Down
Sometimes it is best not to keep your fabric awning up for 24 hours, seven days a week. There will be times when you find it best to take down your fabric awning for different reasons. For example, you might find it easiest to clean your awning by taking it down to give it a cleaning, scrub, or sweeping. Or perhaps it is a season where your awning is not needed, so you want to put it away to give it a rest from the outdoors. Regardless, when you take down your awning you will want to make sure you are taking it down and still taking care of it. Do not drag your fabric awning or else you will be risking having the fabric tear.
Watch Your Cleanser
When you clean your awning, you want to make sure you are using the right kind of cleanser for it, if you are using one. Certain fabric awnings come with a recommended cleanser to use. If it does not, then make sure you are using a gentle product. The wrong kind of cleanser can stain your awning or discolor it, which you will want to avoid in order to maintain your fabric awning's beautiful aesthetics.
CONTACT CARROLL ARCHITECTURAL SHADE TODAY FOR YOUR AWNING NEEDS!
Ready to get the perfect shade structure for your apartment building, business, or home? Carroll Architectural Shade (formerly known as Carroll Awning) has the expertise and equipment to make and install the perfect residential or commercial shade structure to give your home or business an even cooler exterior. We can design, create, and install custom canopies and awnings all year long. For a free estimate and to get started designing your dream awning, give us a call at 1-800-999-5617 or visit us online. To see examples of our work, follow us on Facebook, Twitter, Google+, and LinkedIn.