Posted on Thursday, August 15th, 2019 at 9:58 am.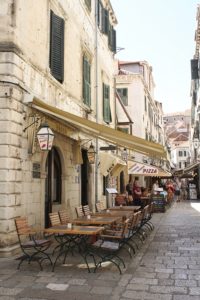 A commercial awning could be what your business needs to bring in more customers. Outdoor living spaces are becoming increasingly popular over the years, and business competition has been getting fiercer as well. The competition among businesses is influenced by social media, which is used to try to convince consumers to purchase various goods and services. Consumers are also demanding nearly perfect customer experiences on every job.
When businesses need to be this competitive, you need an edge, something that will separate your business from others. You want something that will resonate with your customers and compel them to buy into your services. The outdoor space around your business can help bring in customers when it's built and appropriately handled. A well-maintained company translates into more customers and more profits.
We recommend a commercial awning as the first step to making your business stand out. It's the perfect piece to help lure in customers and establish long-term business relationships with them. A commercial awning can open up your business to a world of benefits.
Commercial Awnings Raise Revenue
More customers means more money. This is something known by all business owners. Research suggests that if you invest in a commercial property outdoor space, your profits could go up as much as 65%. A covered patio area can hold plenty of people, and the more people your business can hold, the higher your chances are to make profits.
Weather Protection
Inclement weather doesn't resonate well with customers. So having a commercial awning to give them protection from rain, snow, or intense heat will help liven up their day, and they'll have you to thank for providing them with a comfortable sanctuary away from the unforgiving elements. Also, by protecting customers from harsh weather, you open them up to spend more time at your venue.
A Commercial Awning Is Perfect For Branding And Visibility
Customers don't turn a blind eye to a well-branded business, and a commercial awning is a perfect feature to advertise your business's brand. Also, a commercial awning can raise your business's visibility. When more people can see your business, you bring more customers to your company.
A Commercial Awning Can Create a Social Scene
A commercial awning sets the stage for a pleasant outdoor experience and will be sure to draw attention from nearby areas. Businesses with excitable, sociable crowds often attract more people, providing you with more opportunities to make your company known and make profits.
Ambiance And Customer Experience
As previously mentioned, social media has dramatically impacted how businesses influence customers. Having an outdoor atmosphere that stands out to people will attract a great deal of positive attention. This, in turn, will likely bring in social media influencers who will end up helping you bring in revenue. Thanks to social media, even customers become a source of advertisement for you. If they like what they see, they'll tell everyone they know online, and bring in more customers than you could without their support.
Contact Carroll Architectural Shade Today
Through our combined locations in Baltimore, Maryland and Washington, D.C., Carroll Architectural Shade provides innovative craftsmanship, superb service, competitive pricing, and unfailing attention to detail for customers throughout Maryland and Virginia.
Our highly skilled craftsmen design and custom manufacture shade products in house, including commercial awnings, residential awnings, retractable awnings, roll up curtains, aluminum awnings, and flat metal canopies. Founded in 1958 by James Carroll Sr., and still family-owned by his sons today, Carroll Architectural Shade remains committed to delivering top quality craftsmanship and service.
Visit our website to see how we can serve you, and follow us on Facebook, Twitter, Linkedin, Pinterest.