Posted on Wednesday, November 20th, 2019 at 4:11 pm.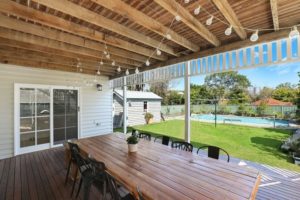 Having a beautiful outdoor living area is an inviting idea for many homeowners. With a patio or retractable awning, all you need to do to catch captivating scenery is step outside of your home. Outdoor living spaces are an extension of a person's house, and they make for the perfect spots for relaxing and entertaining guests.
One of the key problems with an outdoor living area is a lack of protection from the sun. The good news is that there is a solution to this problem. With a retractable awning, you give your outdoor living space the protection it needs. But there are considerations to make before deciding on an awning. Consider the following before you choose a retractable awning for your outdoor landscape.
Material
A retractable awning can be made from several materials. Polyester is better for larger awnings to keep them from sagging, while canvas is preferred for people who want to retain the color of their retractable awning. Some awnings use acrylic fabric, which supports higher durability as well. You should decide what purpose you have for your awning, then decide on the right material to promote what you want.
Color of your Retractable Awning
Any retractable awning will be noticeable around your neighborhood, so you want to pick one with a color that complements your home. White is a color that goes well with practically any color, and it's a color that reflects heat better. If you want an energetic atmosphere, warm colors like red or orange can be a good choice, while greens and blues are better to promote a calm and soothing environment.
Size of your Retractable Awning
Awnings vary in size, ranging from anywhere between 8 to 25 feet! Since retractable awnings primarily keep the sun off your property, the size of the awning will be determined by how much sun you want to block out. You'll have to use your imagination, thinking about what activities will take place on your awning. What activities will you perform in the shade, and when will you want to bask in the sun?
Consider the Retraction Mechanism
There are manual and motorized retractable awnings. Manual ones require you to open your retractable awning with a crank, but they are cheaper. Motorized ones can be opened with the push of a button for a higher cost. Motorized variants can even have wind sensors, which will retract your awning automatically to keep it safe from high winds and rain.
Contact Carroll Architectural Shade Today
Through our combined locations in Baltimore, Maryland, and Washington, D.C., Carroll Architectural Shade provides innovative craftsmanship, superb service, competitive pricing, and unfailing attention to detail for customers throughout Maryland and Virginia.
Our highly skilled craftsmen design and custom manufacture shade products in house, including commercial awnings, residential awnings, retractable awnings, roll up curtains, aluminum awnings, and flat metal canopies. Founded in 1958 by James Carroll Sr., and still family-owned by his sons today, Carroll Architectural Shade remains committed to delivering top quality craftsmanship and service.Visit our website to see how we can serve you and follow us on Facebook, Twitter, Linkedin, Pinterest.