Posted on Thursday, September 26th, 2019 at 9:45 am.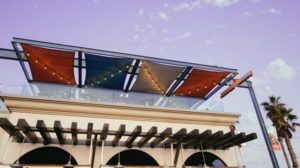 Fall is a beautiful time of year. Temperatures reach a wonderfully comfortable level, and the leaves change into many different stunning colors. You want to enjoy this weather for as long as you can. But to do that, you'll need the proper setup at home. With a retractable awning, you can enjoy all of the beauty of fall from the comfort of your own home.
A Retractable Awning Offers Sun and Shade
A retractable awning can give you shade, so when the sun gets too bright and intense, you can simply adjust it and continue to enjoy the outdoors. Later in the day, after the sun has started to set, you can readjust your awning to allow as much light as you want. That's the utility of a retractable awning; it can offer you as much sun or shade as you wish. Doing this not only makes it easier to enjoy your time outside, but it also protects you and others from UV rays and helps to keep bright sunlight out of your eyes.
Retracts With Ease During for Strong Winds
Fall can bring about strong winds, and these winds could be enough to harm your awning. Fixed awnings won't do well against winds because you can't retract them to keep them safe. That's the advantage of a retractable awning: it only has to be out when you need it. When high winds present themselves to you, you can retract your awning to ensure its safety. This will save you expenses that would come with your awning getting damaged.
A Retractable Awning Keeps Debris off of your Deck
While the colorful leaves of fall are beautiful to watch, they can be a pain to deal with as they're falling around your yard. Outdoor furniture can get dirty or, in more severe cases, damaged by the leaves and debris that fall on them. If you have a retractable awning, you have a defense against this falling debris, protecting your furniture and keeping it clean. This makes it easier to keep your outdoor living space clean and tidy and helps it to last longer by preserving the life of the furniture you have outside.
Enjoy the Rain
Leaves aren't the only thing that fall during this time of year. While rainfall is pleasant to watch from time to time, you certainly don't want to go outside and get soaked. Using a retractable awning, you can keep yourself dry any time you want to step outside and watch the rainfall. The sound of rain against your awning can soothe the soul and offer a refreshing experience not possible without an awning in place.
Contact Carroll Architectural Shade Today
Through our combined locations in Baltimore, Maryland and Washington, D.C., Carroll Architectural Shade provides innovative craftsmanship, superb service, competitive pricing, and unfailing attention to detail for customers throughout Maryland and Virginia.
Our highly skilled craftsmen design and custom manufacture shade products in house, including commercial awnings, residential awnings, retractable awnings, roll up curtains, aluminum awnings, and flat metal canopies. Founded in 1958 by James Carroll Sr., and still family-owned by his sons today, Carroll Architectural Shade remains committed to delivering top quality craftsmanship and service.Visit our website to see how we can serve you, and follow us on Facebook, Twitter, Linkedin, Pinterest.