Posted on Thursday, December 19th, 2019 at 9:59 am.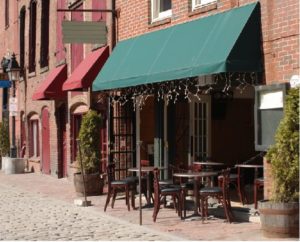 The outside of your business sends a strong message about what it represents. You want to give your clients the right message the moment they set foot on your property. A great way to show off your business is with a commercial awning. When you have a commercial awning for your business, your business benefits in many ways.
You Make a Solid First Impression
The moment your customers take a look at your building, they get a feeling for what your business represents. When you have an outdoor commercial awning, you give clients a space where they are protected from the sun. It also gives the outside of your business a more professional appearance that tells people that you value your work.
Show Off Your Business
You want your business to stand out. You put pride into making your business what it is today. Why not help show off your business with a commercial awning? You can put your business's logo on your awning to get your name seen by more people. By making your business more noticeable, you're more likely to bring in more clients, which means more profits.
A Commercial Awning Creates a Pleasant Outdoor Hangout Spot
People love having an outdoor lounge to hang out. When you have an outdoor commercial awning, you give everyone a place where they can unwind in comfort. Many restaurants use them to provide people with more space to dine.
A Commercial Awning Helps Protect Your Investment
There's a good chance that you spend a lot of time and money investing in your business. That includes any furniture you've put inside. Flooring and furniture aren't cheap, so you want to preserve these things as long as you can.
With a commercial awning, you protect your furniture and flooring from sunlight that can get in through the windows. Sunlight can cause flooring and furniture to fade and get damaged. When your windows are covered, you keep everything in your business safer.
Lower your Energy Costs with a Commercial Awning
Sunlight does more than damage your items. It also heats your building. This means you have to spend more on air conditioning to keep the place cool when the weather gets warmer. Be ready for spring when the time arrives by investing in a commercial awning now. The shade keeps sunlight out of your building, keeping it cooler without the need for air conditioning.
Contact Carroll Architectural Shade Today
Through our combined locations in Baltimore, Maryland, and Washington, D.C., Carroll Architectural Shade provides innovative craftsmanship, superb service, competitive pricing, and unfailing attention to detail for customers throughout Maryland and Virginia.
Our highly skilled craftsmen design and custom manufacture shade products in house, including commercial awnings, residential awnings, retractable awnings, roll up curtains, aluminum awnings, and flat metal canopies. Founded in 1958 by James Carroll Sr., and still family-owned by his sons today, Carroll Architectural Shade remains committed to delivering top quality craftsmanship and service.Visit our website to see how we can serve you and follow us on Facebook, Twitter, Linkedin, Pinterest.