Posted on Thursday, October 17th, 2019 at 9:42 am.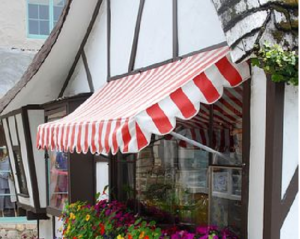 Outdoor living space has always been a highly desirable feature of people's homes. But nowadays, it's not just homes that want this feature. An increasing number of commercial properties want to offer their customers a place where they can unwind and enjoy the scenery. Businesses are highly competitive for customers, and any edge a company can get over others helps. With the right outdoor feature, you can make your business more inviting than another, which helps get people to buy your products. A commercial awning is a feature you want for your business, and it can be helpful in many ways.
A Commercial Awning Can Raise Revenue
More customers results in more money. Sounds simple, right? That's the beauty of a commercial awning because you provide an outdoor space for your customers to gather. When you can fit more customers on your premises, you give yourself and your business more opportunities to make profits. The expense of an awning is nothing compared to the money you can make when you invest in one.
A Commercial Awning Offers Weather Protection
It can dampen the mood when ugly weather pops up. Having a commercial awning gives your customers a safe haven from inclement weather like rain, snow, or intense heat. Having protection from the harsh elements will make customers more comfortable in your business, and ultimately more inclined to spend money there.
Branding and Visibility
A commercial awning provides you with the perfect canvas on which to show off your brand name. Decorate your awning with logos and colors associated with your company. This will raise your company's visibility and bring in new customers as a result.
Create a Social Scene
It's hard to attract attention to your business when all of your customers are inside where no one else can see them. Installing a commercial awning means you give customers an outdoor venue where they can gather and get attention from the public. All of the activity that takes place around your awning will attract attention from passersby and will entice them to visit your business.
Contact Carroll Architectural Shade Today
Through our combined locations in Baltimore, Maryland, and Washington, D.C., Carroll Architectural Shade provides innovative craftsmanship, superb service, competitive pricing, and unfailing attention to detail for customers throughout Maryland and Virginia.
Our highly skilled craftsmen design and custom manufacture shade products in house, including commercial awnings, residential awnings, retractable awnings, roll up curtains, aluminum awnings, and flat metal canopies. Founded in 1958 by James Carroll Sr., and still family-owned by his sons today, Carroll Architectural Shade remains committed to delivering top quality craftsmanship and service.Visit our website to see how we can serve you and follow us on Facebook, Twitter, Linkedin, Pinterest.