Posted on Thursday, January 9th, 2020 at 3:44 pm.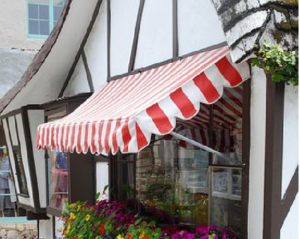 Awnings are useful for many reasons. They can add a little extra style to your building. They are great at lowering the amount of heat your building gets from the sun, which results in lower heating bills. They can also provide people with a perfect gathering spot outside. In the winter, however, there are some precautions you need to take to preserve them. Making sure your awning is winterized keeps it in top shape for when you need it again in the spring. Take a look at the steps you should take to winterize your retractable awning.
Clean The Fabric of your Retractable Awning
The first step towards prepping your retractable awning for winter is to clean the fabric. Get any debris off of your awning. Start at the top of your awning and work your way down to the bottom edge. After that, hose your retractable awning down to get it more thoroughly cleaned. If there are still stubborn dirt spots or stains left, you can use a soft-bristled brush to handle them. Use a mixture of warm water and a little dish soap when scrubbing. You should make sure the brush is always damp. Also, rinse it regularly so that you don't spread dirt around the awning.
Give Your Retractable Awning Enough Time to Dry
The fabric of your retractable awning should be completely dry before you decide to close it up. If you close your awning while it's still damp, it can cause mold and mildew to grow, which will result in more problems for your awning. If your retractable awning has a hanging valence, you should remove that and make sure it has time to dry too.
Pull Your Retractable Awning Back and Stow it Away
Lastly, you want to retract your awning so you can stow it away for the winter. Make sure there isn't any loose-hanging fabric before you pack it up. Otherwise, your retractable awning could get torn or suffer other types of damage before you take it out again. Some awnings have ties. If yours has one, tie the fabric, so it's out of your way, then fold it up so you can get it ready for storage. Protect it with a winter cover to make sure it will stay safe until you pull it out again when spring arrives.
Contact Carroll Architectural Shade Today
Through our combined locations in Baltimore, Maryland, and Washington, D.C., Carroll Architectural Shade provides innovative craftsmanship, superb service, competitive pricing, and unfailing attention to detail for customers throughout Maryland and Virginia.
Our highly skilled craftsmen design and custom manufacture shade products in house, including commercial awnings, residential awnings, retractable awnings, roll up curtains, aluminum awnings, and flat metal canopies. Founded in 1958 by James Carroll Sr., and still family-owned by his sons today, Carroll Architectural Shade remains committed to delivering top quality craftsmanship and service.Visit our website to see how we can serve you and follow us on Facebook, Twitter, Linkedin, Pinterest.