Posted on Thursday, November 7th, 2019 at 8:40 am.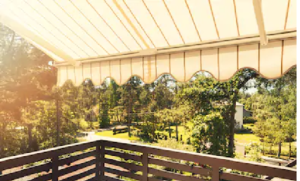 You may have purchased a retractable awning over the summer to keep the heat off your home, and after a while, you need to perform proper maintenance to keep your awning in top shape. Awnings are a great investment, and you'll want to have yours around for years to come, so you'll want to know how to maintain it. These are some of the ways you can keep your retractable awning in good shape.
Regular Cleaning
Cleaning your retractable awning from time to time is a simple, but effective, way of maintaining it. Just lay your awning down and clean it using a garden hose roughly once per month. If your awning has stains, use a little soap, scrub it, then rinse it with clean water. Lastly, before retracting your awning, let it dry completely.
Keep your Retractable Awning Dry
It's not advised to let your awning collect water. The moisture causes your retractable awning to become discolored and could even result in stretching. Moisture also sets the stage for many insects as well as mold. Keep your awning dry to prevent any of these side effects from happening to it.
Use Your Retractable Awning Properly
Your awning has to be handled carefully. Misuse of your awning can cause it to stop functioning as it should. The fabric is supposed to roll and unfold at the top of your awning tube. If this isn't the case, the awning is likely being mishandled.
Don't Expose Your Awning to Vegetation
Your retractable awning should always be a safe distance away from any vegetation. That vegetation can grow and get tangled up in your awning. Also, some plants give off chemicals that can harm your fabric.
Watch Out for Rust on you Frames
Even if you take great care of your retractable awning, damage can happen. With this in mind, you should monitor your frames regularly. If you see any rust, gently scrape it off before it becomes too big of a problem.
Also, monitor your jamming mechanism because it's important for folding and unfolding your awning. You want to check on it occasionally to be sure it's working. If it's not, contact an awning contractor to get it addressed.
Contact Carroll Architectural Shade Today
Through our combined locations in Baltimore, Maryland, and Washington, D.C., Carroll Architectural Shade provides innovative craftsmanship, superb service, competitive pricing, and unfailing attention to detail for customers throughout Maryland and Virginia.
Our highly skilled craftsmen design and custom manufacture shade products in house, including commercial awnings, residential awnings, retractable awnings, roll up curtains, aluminum awnings, and flat metal canopies. Founded in 1958 by James Carroll Sr., and still family-owned by his sons today, Carroll Architectural Shade remains committed to delivering top quality craftsmanship and service.Visit our website to see how we can serve you and follow us on Facebook, Twitter, Linkedin, Pinterest.