Posted on Thursday, October 31st, 2019 at 9:04 am.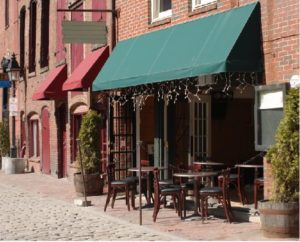 Awnings can last you a long time, but they don't last forever. One day, you'll have to determine when it's time to get rid of your old awning and get a new awning replacement. Knowing when a replacement is needed instead of a simple repair isn't always easy, but there are signs to watch for when determining what choice to make. If the following details hold true with your awning, it's time to get an awning replacement.
Your Awning is Old
Your awning, as mentioned earlier, will only last so long. Watch out for worn out or breaking parts of your awning. The awning frames should last for a long time. The moving parts of your awning, as well as the motor, are often the first things to give out. Fabric usually lasts between 5 and 15 years. If you need new fabric, go with a sturdier type of fabric this time. Fabric can usually be replaced without needing an entire awning replacement. But keep an eye on your awning. If it isn't a high-quality awning, you might need to replace it shortly after you get the fabric.
Your Awning is Damaged
After a while, intense weather can do severe damage to your awning. You'll probably notice how worn down it starts to look. If you keep your awning up in winter, it's highly likely there will be branches and snow weighing it down. Even rain can cause significant damage and make it easier for your awning to grow mold. Enough damage will require you to get an awning replacement. If you don't have a retractable awning for these brutal weather conditions, we recommend you get one next time. Retractable awnings can retract back when heavy storms come your way. This helps you preserve them longer.
Your Awning is High-Maintenance
Non-retractable awnings demand a lot of maintenance. They need more cleaning and repairs because they always have to endure the weather. Many people get awning replacements for this reason, so they can get retractable awnings instead, which adapt better to the weather. If you have trouble moving, you can even get your retractable awning to be motorized. This makes it easier for you to open and close your awning without having to do more than lift a finger.
Contact Carroll Architectural Shade Today
Through our combined locations in Baltimore, Maryland, and Washington, D.C., Carroll Architectural Shade provides innovative craftsmanship, superb service, competitive pricing, and unfailing attention to detail for customers throughout Maryland and Virginia.
Our highly skilled craftsmen design and custom manufacture shade products in house, including commercial awnings, residential awnings, retractable awnings, roll up curtains, aluminum awnings, and flat metal canopies. Founded in 1958 by James Carroll Sr., and still family-owned by his sons today, Carroll Architectural Shade remains committed to delivering top quality craftsmanship and service.Visit our website to see how we can serve you and follow us on Facebook, Twitter, Linkedin, Pinterest.