Posted on Friday, May 10th, 2019 at 3:19 pm.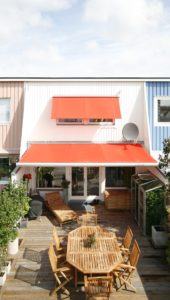 One amazing way to update the look of your home and add value is with window awnings. Window awnings look and function a lot like traditional patio awnings, but are they really of good value? The short answer is yes. It may seem like a window awning is strictly cosmetic – after all, you more than likely aren't sitting out under the window as you would on a patio – but there is much more to them than that. Read on for an overview of their many benefits.
Block Rain
If you like having your windows open so you can hear and smell the rain, but you don't like having the rain come in, an awning can help. A window awning won't block all of the rain from coming in an open window, but it will block some. It will also divert much of the rainwater away from the window, saving the window sill and trim from excessive water damage.
Block UV Damage
UV light from the sun that streams in your windows can actually damage your property. Walls, furniture, rugs, and even artwork can fade when subjected to intense sunlight. A window awning can help shade the room from that intense sun and save your property from damage.
Reduce Cooling Costs
While the window awning is shading your property from sun damage, it is also shading your room from the heat of the sun. You could also use shades and drapes to block the sun, but most of us want at least a little natural light in our homes for our health and happiness. With a window awning, you can still have some natural light come in while blocking the majority of the light and heat. This can translate to substantial savings on your cooling costs.
Protect Delicate Plants
The window awning will also protect any plants that you have under the window from damage caused by heavy rain. This means that you can plant more interesting and delicate plants without worry.
Protect Your Foundation
As discussed earlier, awnings divert the rain and protect what is under them, including the foundation. Over time, any water can wear away at your foundation, so anything that blocks or diverts that water is a good investment.
Improve Curb Appeal
Finally, awnings are beautiful and eye-catching. If the outside of your home feels a little bland, awnings can provide the perfect pop of color and fabric to increase visual interest and curb appeal.

CONTACT CARROLL ARCHITECTURAL SHADE TODAY FOR YOUR RETRACTABLE AWNING!
Ready to get the perfect shade structure for your apartment building, business, or home? Carroll Architectural Shade (formerly known as Carroll Awning) has the expertise and equipment to make and install the perfect residential or commercial shade structure to give your home or business an even cooler exterior. We can design, create, and install custom canopies and awnings all year long. For a free estimate and to get started designing your dream awning, give us a call at 1-800-999-5617 or visit us online. To see examples of our work, follow us on Facebook, Twitter, and LinkedIn.