Posted on Thursday, October 24th, 2019 at 9:56 am.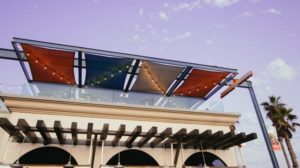 If you're a homeowner who's looking for a way to boost your home's curb appeal while also cutting down on the direct sunlight your house gets, a residential aluminum awning is a perfect investment for you. Aluminum awnings provide shade for your house, and can even protect your windows and siding from hazardous conditions like rain. They're also affordable, even if you're on a budget. Getting a residential aluminum awning gives you a few benefits that make your investment worthwhile.
Durability
Aluminum is a durable material, making a residential aluminum awning resistant to inclement weather conditions such as rain, snow, or intense wind. These awnings also won't warp or stretch, meaning they'll stay in good condition for a long time, provided you maintain your awning. If you perform regular upkeep on the awning, it can last over 50 years!
Affordable
Aluminum awnings give homeowners a lot of durability, but it also comes at a lower price than metal awnings. You can cut down on costs even more if you pick a residential aluminum awning that is smaller in size or that has a more traditional shape to it.
Flexible
You can get your residential aluminum awning in many different colors, which allows you to pick a color that complements your home's exterior. Also, they come in various styles. You can get a more traditional awning, which works better for older homes, or you can get one with a modern style. With so many choices available, you'll be able to get an awning that matches up perfectly with your home.
Low-Maintenance
A perk that comes with buying a residential aluminum awning is that it requires very little upkeep. All you have to do is use a hose to clean off any dirt that piles up on the surface to keep your awning looking like new. This means your awning is not only easy on your wallet, but yourself too.
Energy-Efficient
A residential aluminum awning does more for you than boost your home's curb appeal. They are also great for cutting down on energy costs. By protecting your house from the heat of the sun, you don't have to spend as much money on air conditioning to keep your house cool.
Contact Carroll Architectural Shade Today
Through our combined locations in Baltimore, Maryland, and Washington, D.C., Carroll Architectural Shade provides innovative craftsmanship, superb service, competitive pricing, and unfailing attention to detail for customers throughout Maryland and Virginia.
Our highly skilled craftsmen design and custom manufacture shade products in house, including commercial awnings, residential awnings, retractable awnings, roll up curtains, aluminum awnings, and flat metal canopies. Founded in 1958 by James Carroll Sr., and still family-owned by his sons today, Carroll Architectural Shade remains committed to delivering top quality craftsmanship and service.Visit our website to see how we can serve you and follow us on Facebook, Twitter, Linkedin, Pinterest.