Posted on Thursday, October 3rd, 2019 at 8:37 am.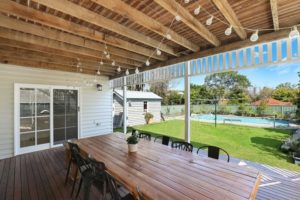 As the summer heat starts to go down, you may think you don't have a use for an awning anymore. But having a patio awning installed is still a great idea. Awnings can be enjoyed at all times of the year no matter what the weather is in your area. Awnings serve to improve your outdoor living space and make it more enjoyable.
These awnings can also be great for shielding your outdoor furniture from the harsh elements of nature. In the past, the only awnings available were striped tacky ones that didn't look great on your property. But awning styles have expanded since then, and now you can find a patio awning that complements your home perfectly. Learn about each type of patio awning to determine which one is right for you.
Try a Stationary/Fixed Patio Awning
This type of awning is perfect if you plan to add a permanent feature to your home. Fixed awnings are durable and can cover a large part of your outdoor landscape. Since they are fixed into place, they can also handle severe weather more easily. During the winter, you'll have to take off the fabric and leave the metal frame exposed, which isn't aesthetically appealing. However, this type of patio awning has the benefit of not needing to be rolled out since it provides shade for your house all of the time. Stationary awnings are an option that provides stability for your home, and they are easy to use.
Go With a Retractable Patio Awning
Retractable awnings are a highly popular awning type because they can be rolled up any time they're not in use. You can use a retractable awning during the spring, summer, and fall depending on what fabric you select. You don't have to remove this type of patio awning when winter comes around.
Something to keep in mind is the type of fabric you use and how your awning is made. Contact your local awning company about what fabric you're using and how your awning was built to find out whether or not you can retract your awning during winter. You have to retract your awning during heavy rain and snowstorms, as well as heavy wind. Some automatic varieties retract on their own when bad weather approaches.
Choose a Free-Standing Patio Awning
This type of patio awning is perfect for anyone who doesn't want a patio awning on the side of their home. These awnings can be transported, making them highly convenient. You can move them anywhere you need shade, so you have the best coverage against the sun at all times. Depending on how big the awning is, you may be able to store it inside your garage or leave it closed in the corner of your patio.
Contact Carroll Architectural Shade Today
Through our combined locations in Baltimore, Maryland and Washington, D.C., Carroll Architectural Shade provides innovative craftsmanship, superb service, competitive pricing, and unfailing attention to detail for customers throughout Maryland and Virginia.
Our highly skilled craftsmen design and custom manufacture shade products in house, including commercial awnings, residential awnings, retractable awnings, roll up curtains, aluminum awnings, and flat metal canopies. Founded in 1958 by James Carroll Sr., and still family-owned by his sons today, Carroll Architectural Shade remains committed to delivering top quality craftsmanship and service.
Visit our website to see how we can serve you and follow us on Facebook, Twitter, Linkedin, Pinterest.