Posted on Thursday, January 30th, 2020 at 10:14 am.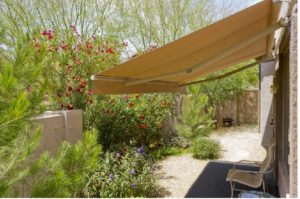 A retractable awning is a big investment for a homeowner. It's a feature of your home that you will be using often, especially as we get closer to spring. You should make sure you get the awning you want before you go through with your installation. You don't want your money to go towards something that doesn't leave you satisfied. Here are some things to consider before you have a retractable awning installed.
Who Are You Buying Your Retractable Awning From?
When you're making an investment this large, you want to know you're getting your installation from a reliable awning company. Do your research on whatever company you're trusting with your retractable awning installation. If you don't like the reviews you see, you might want to consider a different company.
Does the Company Install Retractable Awnings Themselves?
Ask the company doing the installation if they do their installations in-house or if they have subcontractors do them on their behalf. You'll also want to inquire about warranties, how long those warranties last, and if they include service work or any future modifications. If a company can't, or won't, offer a warranty, it should raise suspicion.
How Will Your Retractable Awning Operate?
Usually, a retractable awning will be operated either using a crank or using a motor. Awnings that use a crank to retract usually have that crank included in the initial price of the awning. If there isn't any specific need you have for a motorized retractable awning and you want to save a little money, you're probably better off getting an awning that uses a hand crank.
Motorized awnings come at an additional cost and are a little more expensive than awnings that use hand cranks. The tradeoff is that using a motor is easier and more convenient. It's also great for people who may struggle using a hand crank. All you need to do is press a button on a remote or a switch on a wall, and your retractable awning will start to adjust.
Contact Carroll Architectural Shade Today
Through our combined locations in Baltimore, Maryland, and Washington, D.C., Carroll Architectural Shade provides innovative craftsmanship, superb service, competitive pricing, and unfailing attention to detail for customers throughout Maryland and Virginia.
Our highly skilled craftsmen design and custom manufacture shade products in house, including commercial awnings, residential awnings, retractable awnings, roll up curtains, aluminum awnings, and flat metal canopies. Founded in 1958 by James Carroll Sr., and still family-owned by his sons today, Carroll Architectural Shade remains committed to delivering top quality craftsmanship and service.Visit our website to see how we can serve you and follow us on Facebook, Twitter, Linkedin, Pinterest.