Posted on Thursday, January 16th, 2020 at 10:10 am.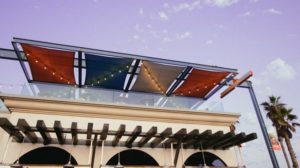 Deciding to install an awning on your business is a big choice. Once you've decided to install your awning, you need to decide what type to use. Commercial awnings are perfect for luring customers to your business, as well as giving your property a little more flavor and personality. Commercial awnings often play a role in establishing a business's brand, and they influence how customers perceive that brand. You should look at all of your options before making a decision. Here are three types of commercial awnings you should consider for your business.
Entrance Commercial Awnings
As the name implies, entrance awnings are put right outside of the entrance of your business. These are popular awnings because they are a popular variety for companies that are trying to build their brands. They're also great at protecting your property and reducing your energy costs. Entrance awnings are perfect for providing customers with a warm welcome as they enter your premises. Making a great first impression is important.
Inside Commercial Awnings
Like entrance awnings, inside awnings are exactly what the name suggests. These types of commercial awnings go along the inside of your business, and they're perfect for giving your interior more personality. Many businesses use inside awnings, such as clothing stores and boutiques, which guide customers to dressing rooms. Retail shops can also use these awnings if they're trying to draw attention to certain places, such as special areas in their cafes. Regardless of how you use it, an inside awning is a perfect way to add more style and functionality to your business's interior.
Stand-Alone Commercial Awnings
The last type of awning we'll review is the stand-alone awning. Stand-alone awnings are independent of the building itself. This means that you can install one pretty much anywhere. If a business has special areas outside of the store, then a stand-alone awning could be of use. Such areas may include bike racks or smoking areas. These are great commercial awnings for businesses that are trying to maximize their existing space, as well as create new space for customers.
Contact Carroll Architectural Shade Today
Through our combined locations in Baltimore, Maryland, and Washington, D.C., Carroll Architectural Shade provides innovative craftsmanship, superb service, competitive pricing, and unfailing attention to detail for customers throughout Maryland and Virginia.
Our highly skilled craftsmen design and custom manufacture shade products in house, including commercial awnings, residential awnings, retractable awnings, roll up curtains, aluminum awnings, and flat metal canopies. Founded in 1958 by James Carroll Sr., and still family-owned by his sons today, Carroll Architectural Shade remains committed to delivering top quality craftsmanship and service.Visit our website to see how we can serve you and follow us on Facebook, Twitter, Linkedin, Pinterest.